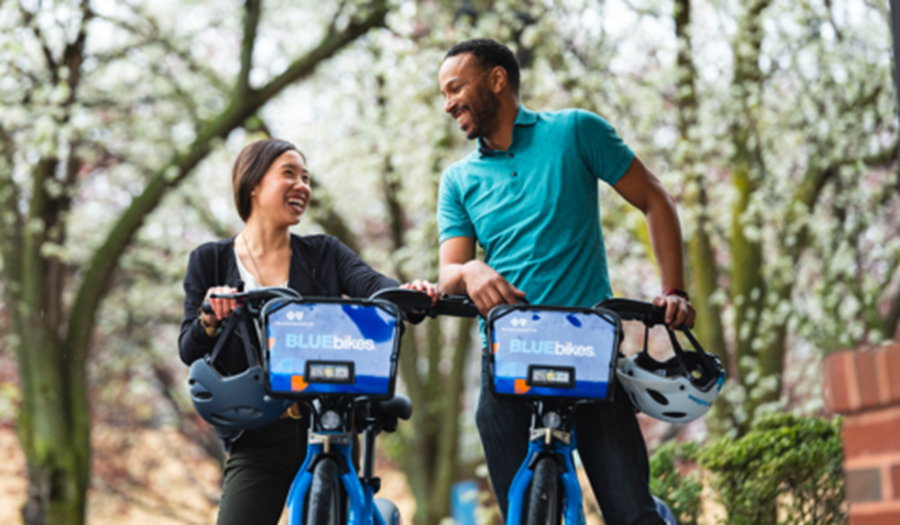 The Revolution Hotel Offers the Best of Boston on Two Wheels
5/16/2023
May 16, 2023. There's been a revolution on two wheels in Boston, a city that has gone to great lengths to construct bike lanes and bike paths and make the Hub a welcoming place for all bicycle riders. The Revolution Hotel, a stylish and cutting-edge hotel in the heart of the charming South End, supports the city's efforts to ensure that Boston is one of the most bike-friendly cities in the country.
The Revolution Hotel has partnered with Public Bikes, famed for hand-assembled bikes, and loans them to guests who want to explore the city on two wheels. Guests can also conveniently grab a bike throughout Boston from Bluebikes, the city's public bike-sharing system. There's a Bluebikes station close to the hotel at Tremont and Berkley Streets.
Bikes are a critical part of the city's mass transit solution, but they're also a fun way to get around. Ride to the Esplanade along the banks of the Charles River, explore neighboring Cambridge on the other side of the river, and ditch four wheels for two to see some of Boston's historic neighborhoods like the Back Bay or the North End. For more ideas, check out Boston Bikes, the official website for bike enthusiasts in Boston.
A bike is a great way to connect the dots with The Revolution Hotel's Land and See package. Pedal to The Museum of Science and The New England Aquarium, thanks to admission tickets included with the offer. Then spend the night at The Revolution Hotel, have dinner at Cósmica, a Cal-Mex restaurant in the hotel, and jump-start the morning with something from Kohi Coffee Co. in the lobby. It's the ideal way to see the best of Boston on two wheels.
The Revolution Hotel's Land and See Package includes:
• One Night Stay in Revolutionary Accommodations
• Two Adult Tickets to The Museum of Science
• Two Adult Tickets to The New England Aquarium
• Rate Excludes Tax and Gratuity
• Subject to Availability | Blackout Dates Apply
• Details at The Revolution Hotel


The Revolution Hotel
40 Berkeley Street
Boston, MA 02116
617-848-9200
therevolutionhotel.com

The Revolution Hotel is located in Boston's vibrant South End, within walking distance to the Back Bay and close to public transportation. It is redefining the hotel concept in Boston with smartly designed yet very affordable lodging aimed at cost-conscious travelers, families, and small groups, from Revolution Loft Suites to Triples, Quads, and Bath In-Room and Bath Down-The-Hall options. The hotel has a 24-hour fitness center and free Wi-Fi. Dogs are welcome for a $25 fee per stay. The hotel was given the Honor Award in the 2021 Hospitality Design Awards by the Boston Society for Architecture (BSA). The Revolution Hotel is owned by the Mount Vernon Company and operated by Olympia Hotel Management. therevolutionhotel.com
Photos are available upon request.
Press Contact:
Gayle Conran
Conran PR
gconran@conranpr.com
212-447-1010